the pathetic caverns - music by artist - Low
eclectic reviews and opinions
Low
(with Pedro the Lion)
5 Feb 2005
Somerville Theatre (Somerville, Massachusetts)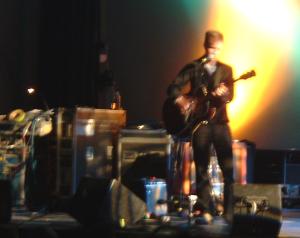 The first thing I figure out about Low tonight is that they've really always been about noise as much as about quiet. When I saw them 10 years ago, I could barely hear the band over the extraneous sound in the room. People talking, glasses clinking -- even the creak of a leather jacket threatened to overwhelm the performance. In retrospect, I think that may have been part of the point, rather than a problem. The 2005-model Low has enormously expanded dynamics, and one thing that's evident early on is that Alan Sparhawk's amps (he uses two, a Fender Deluxe and an Orange) are frequently cranked. The tiny sounds he makes removing his hand from the strings, or switching on effects pedals are hugely magnified and crackle through the speakers. The overall care with which the band approaches sonics -- like their characteristic achingly gorgeous harmonies and the way Sparhawk carefully deposits the ending s's and t's at the end of long notes -- leads me to interpret these sounds as performance choices rather than mistakes.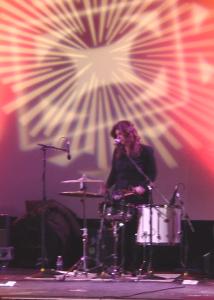 Likewise, when Sparhawk chooses to make extremely ugly sounds with his equipment, it seems completely deliberate. For most the night his distorted electric guitar tone was an abomination (at least where we sat), with ear-scrapingly harsh high mids, a severely scooped lower midrange, and a pulverizing low end, but "When I Go Deaf" (a self-fulfilling prophecy if I ever heard one) erupted into glorious, saturated power chords, with as warm and meaty a tone as anyone could ever ask for, lending weight to my theory that Sparhawk was making the exact noises he wanted throughout.
The second thing I notice is that Low was at times almost shockingly sloppy. I've seldom seen a band of their stature and experience so offhanded unless chemical impairment was obviously at work. Songs began, ground to a halt, and restarted. Sparhawk mangled some of the lyrics (particularly "Violence," one of the encore numbers), even quipping midverse, "this isn't going very well, is it?"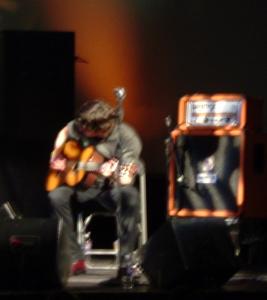 The third thing is that the nastiness of the some of the guitar sounds and the intermittently haphazard nature of the performance really didn't matter at all, because the songs ultimately triumphed over the noise, and also because -- once they've all decided where the beat is -- Sparhawk, drummer/co-vocalist Mimi Parker, and bassist Zak Sally play as if they share a single brain. Low's compositions are never complicated, but the unity and subtlety of their grasp of dynamics is frequently stunning.
Pedro the Lion opened with an extremely polished set, roughly half-drawn from 2004's Achilles Heel. PTL's leader David Bazan was his usual affable self, stopping the set midway for his trademark "are there any questions at this point?" and cracking wise about the need for an indie-rock answer to Branson, Missouri. Bassist Ken Maiuri's backing vocals were so tight, he could have passed for a second track of Bazan's voice. Drummer Frank Lenz (of Starflyer 59, wearing a "Cat Vomit" T-shirt) was solid but unflashy. His approach minimized the mathier elements of Pedro the Lion but gave the band an unaccustomed swagger -- especially Neil Young's "Revolution Blues," which lured Alan Sparhawk from the wings to play along, and "Keep Swinging," which almost evoked southern rock in the riff-heavy live arrangement. Second guitarist TW Walsh is a consummate sideman: he never steals the spotlight, but he adds texture and color.
The unquestioned highlights were the opening and closing numbers: the driving, dissonant "Penetration" (from Control) and the chilling "A Mind of Her Own" (from Winners Never Quit). And although this show was very good, it didn't scale heights that the Control-era touring band was capable of (although I've heard they were inconsistent, the show I saw was spellbinding). The problem is that although Achilles Heel is a fine record in its own right, it doesn't quite live up to the strongest material from previous albums.
This review originally appeared at Avoid Peril.
unauthorized reproduction prohibited.
all contents © 1995-2023 d. mayo-wells except where otherwise noted.