the pathetic caverns - music by artist - Ida
eclectic reviews and opinions
Ida
with Thalia Zedek and Jodi Buonanno
20 Feb 2005
The Boston Museum of Fine Arts (Boston, Massachusetts)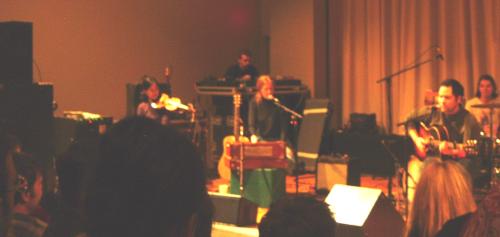 The core of Ida has always been the voices: Dan Littleton, Elizabeth Mitchell, and (since 1997 or so) Karla Schickele. Their technique is formidable, but technique doesn't explain the impact of being in the room when Ida is singing. The mystery isn't how beautifully their harmonies meld; it's how they sound simultaneously sad and joyful. Their tenderest love songs have melancholy undercurrents, and their darkest material still encompasses love of life. Their voices twine around one another, bounce from the walls, rise up into the ether, and dissipate.
Ida have made several beautiful recordings -- their new Heart Like a River is no exception -- but I think what makes Ida truly special is fundamentally impossible to record. Their albums are postcards, not destinations. There is a technical aspect to this: when you play their album, they can't adjust their voices to the dimensions and acoustic properties of your room. But there's far more to a performance than sound waves.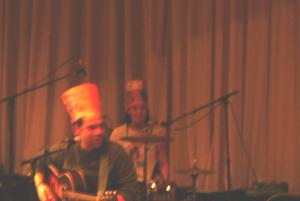 Obviously, a performance has a visual component, and Ida's appearance at the Boston MFA was definitely enhanced by the colorful fez-like construction paper hats that Littleton and Mitchell's child made for the band. But that's still not the whole story.
The playful give and take of the band' verbal banter was reflected musically. And the feeling in the hall -- not just the emotion in the songs, not just the band members' ease with one another, but also the rapt attention and shared pleasure of the audience -- was inherently ephemeral, impossible to capture or reproduce. In a way, listening to Ida is about as close to praying as I can get.
If Ida's greatest gift is those transcendent harmonies, their second-greatest gift is for arranging their voices and compositions to show them to best advantage. Schickele's bass parts are remarkable for the notes she doesn't play; she approaches the music with a profound absence of ego. The two most recent additions to the lineup betray no trace of their newness. Jean Cook's violin technique is remarkable for someone in what is ostensibly a "rock" band, she's equally adept at holding long precise notes, skittery glissandos, and (in Ida's own description), "the language of birds and the magic drone sound that holds it all together." Ruth Keating's drums are a trifle more assertive than Ida lineups in the past few years but don't overwhelm the songs; she also adds melodica, glockenspiel, and harmonica.
There's a way in which a band's virtues are most clearly on display when they're in shaky territory. It's like being on an airliner when something goes wrong with an engine -- that's when you need a real pilot to stop the song from crashing. Littleton displays a puckish humor most of the night, and near the end of the set he asks, "Should we wing something?"
Mitchell is firmly against it. "They've listened so nicely," she says. "Why would we punish them?"
This naturally doubles the crowd's enthusiasm for hearing Ida abandon the safety net, and the band proves that they are indeed real pilots -- Mitchell needs to get confirmation on the opening chord, but "Encantada" is only tentative for the first handful of bars. The band is so adept at listening to one another that they seem to communicate telepathically.
Perhaps in part to tweak the Museum of Fine Arts (although it's scarcely a staid institution), Ida closed with a skewed homage to the Carter Family in which their voices sweetly sang the word "fuck" several times per verse. I get what they were trying to do -- the criticism most frequently leveled at Ida is that they're a little too pretty, or if you're feeling uncharitable, snoozy. It's hardly the first Ida song to celebrate carnal love -- just the least subtle. But it ended the evening on a jarring note, and it seemed a bit crass. A bit like, well, like swearing in church.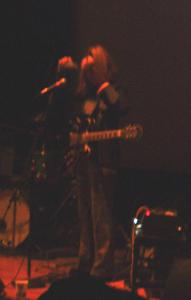 Jodi Buonanno opened the evening with a brief set sure to startle fans of her fragile, spare work as a member of The Secret Stars. Starkly backlit by a flickering black-and-white projection loop of morphing dots, she wrung harsh and aggressive sounds from her guitar. Johanna Dery, who created the film loop, accompanied her some of the time using a trap kit (and an assortment of mallets) for color more than to establish rhythm. The middle of Buonanno's set was given over to a long excursion into sculpted feedback. She had a small pile of processing gear at her side (including what I think was a vintage Echo Plex, although it was too dark for me to be sure) and used (I think) a bulk tape eraser to vibrate the strings. It was a bit of a challenging listen, and although it had moments, not consistently interesting. But that's the nature of experiments -- you don't expect them to work all the time.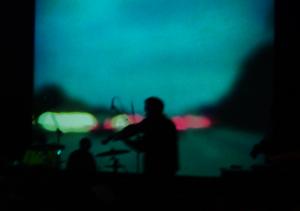 Thalia Zedek (of Come, Live Skull, Uzi, etc.) played in front of more projected images (this time by filmmaker Suara Welitoff), which moved through the course of the set from the mild (blurry streams of nighttime headlights) to the disturbing (eerie, grainy loops of WWII aerial combat footage). In contrast the music, mostly from last year's Trust Not Those in Whom Without Some Touch of Madness, stayed in the uneasy, restless territory for which Zedek is best known. Zedek's compositions are recognizably blues-based but not predictable, and the guitar/drums/viola lineup was unusual. Most of the songs were slow tempoed, though some numbers, like "Ship," would lurch unexpectedly into fast breaks. All of the musicians were individually impressive. The band's greatest collective asset was an intuitive grasp of dynamics -- another longtime hallmark of Zedek's work. Song titles like "Sailor" and "Island Song" reinforced my impression that the music had an oceanic quality -- ebbing, rising in low swells, and crashing violently against the shore.
This review originally appeared at Avoid Peril.
unauthorized reproduction prohibited.
all contents © 1995-2023 d. mayo-wells except where otherwise noted.