the pathetic caverns - music by artist - The Highway
eclectic reviews and opinions
The Highway
27 Jan 2005
The Kirkland Café (Somerville, Massachusetts)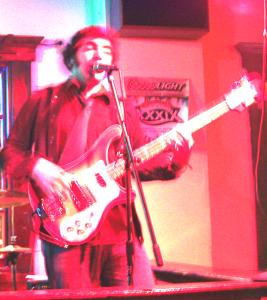 Ten minutes into The Highway's set, one of the guitar players says, "If you like the Beatles, you'll like this song." This is usually the kiss of death -- much too high a bar to set yourself. But they deliver: tunes that stick; airtight harmonies, identifiably Beatlesish compositions that aren't pastiches. Bands with a knack for hooks, the chops to bring them off, and the sense not to wear them out are scarce. Bands that arrange at this level are truly rare. The bassist/lead vocalist drops my jaw: he doesn't ride the root or walk scales; he plays through chords like a jazzbo (he's a Berklee student). Songs change keys into bridges without being either prog-rock-fruity or predictable. The Highway moved here from Venezuela, and maybe that geographical distance explains some of the freshness they bring to tired territory. See them now so you can be smug about it later.
This review originally appeared in The Noise.
unauthorized reproduction prohibited.
all contents © 1995-2023 d. mayo-wells except where otherwise noted.